"This is like saying it is abhorrent."
Recently, British Airways suspended a worker, Nadia Eweida, for refusing to put her crucifix necklace beneath her shirt. You can read more about it
here
.
British Airways has suspended a Christian woman who wears a necklace with a cross to work, even though it allows Muslims and Sikhs to wear headscarves and turbans.

Nadia Eweida, 55, told the Daily Mail Saturday, that she decided to sue her employer for religious discrimination after having been suspended without pay for three weeks.
"I will not hide my belief in the Lord Jesus. British Airways permits Muslims to wear a headscarf, Sikhs to wear a turban and other faiths religious apparel," Eweida said. "Only Christians are forbidden to express their faith."
I am glad that Nadia is not backing down.
The story has not died. Christians are being
urged not to fly British Airways
if BA does not allow religious freedom for Christians.
A former government minister called on Christians to boycott British Airways flights yesterday as the backlash grew over its decision to ban a Heathrow check-in worker from wearing a cross round her neck.

Ann Widdecombe, a former Home Office minister and devout Roman Catholic, said that if BA had not reversed its "crazy" policy by Monday evening, she would cut up her BA executive club card and refuse to fly with the airline.

Urging other Christians to join her in a mass boycott that would inflict huge commercial damage on the business, she said BA was guilty of "persecuting" an employee on the grounds of her faith.

One option would be for Christians to write to the company's chief executive. "But the real power will be their economic power - don't fly BA," she told the BBC programme Heaven and Earth.
I would join if I could (if I could afford to fly anywhere, at the moment, actually).
Rather than rioting, burning buildings, and murdering British Airways officials, these Christians are urging a simple, but effective economic boycott. This should be a lesson for Muslims around the world.

Nadia is
not backing down
:
At an appeal hearing the committed Christian argued for her right to wear the symbol, claiming she was being discriminated against on religious grounds.

After the hearing, she said: "They are accepting of the turban and the hijab, which are both bigger than the cross. It is discriminatory because I do not have the chance to show my religious belief."
[. . .]
In a video interview with The Daily Telegraph, Ms Eweida criticised British Airways's chief executive, Willie Walsh.

She said that the chief executive had written to her MP, Vincent Cable, saying that she could come back to work if she wore the cross beneath a cravat. But she said: "To keep it out of sight is a terrible thing to do. To say this is like saying it is abhorrent."

Ms Eweida said that she had worked for several airlines and had never had a problem with displaying the cross, adding that she was receiving huge support from the media in Egypt.
Miss Eweida is also receiving more
support in England
:
The Archbishop of York, Dr John Sentamu, defended the wearing of crosses yesterday in response to British Airways's decision to suspend an employee who insisted on wearing a crucifix necklace.
[. . .]
Referring to the "controversy in the news", he said: "The cross is a symbol used by Christians to remind them of hope. It is the hope of light overcoming darkness, life victorious over death and good triumphing over evil."

He added: "For those of us who wear a cross, there is not only hope but also a responsibility. The responsibility that goes with claiming the name of a Christian. The responsibility to act and to live as Christians.

"Those wearing a cross proclaim themselves followers of Christ and have the duty of acting accordingly; of showing love to our neighbours of all faiths and none, of forgiving those who offend or persecute us, or choosing a life of service to those we meet in this community be they students or teachers, the cool or the uncool, the weak or the strong. Our duty is to show love to them all.
And to say that someone is not allowed to show her Christianity is a very mean and petty thing. No good is served by denying Nadia Eweida her right to wear her crucifix.
I will continue to follow this story, as I feel it is of the utmost importance to defend Christianity.
God bless Nadia Eweida for her strength, which can only come from God.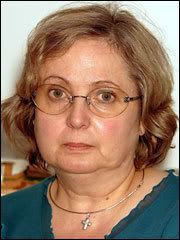 Nadia Eweida and Her Crucifix
Technorati Tags:
British Airways
,
Nadia Eweida
,
Christianity
,
crucifix
,
Anti-Christian
,