RIP Cory Lidle
Washington Post
:
NEW YORK, Oct. 11 -- A small plane carrying New York Yankees pitcher Cory Lidle and a flight instructor spun out of control on a blustery Wednesday afternoon and slammed into the side of a 50-story condominium tower on the Upper East Side, killing both people on board.
[. . .]
Lidle, 34, was an experienced pitcher who had played for both New York teams. He arrived in the major leagues in 1997 with the Mets and pitched the latter part of this season with the Yankees. He had acquired his pilot's license within the past year; it is not known whether Lidle or the unidentified instructor was at the controls of the airplane at the time of the accident.

Yankees management, including owner George Steinbrenner, confirmed that Lidle died in the crash. Lidle's passport was found on the street below, along with two bodies, authorities report.

Lidle had a wife, Melanie, and a 6-year-old son, Christopher; they live in California.
From the
Yankees' Website
:
Yankees captain Derek Jeter added in statement: "I am shocked by this devastating news. Spending the last few months as Cory's teammate, I came to know him as a great man. While he was known as a baseball player, he was, more importantly, a husband and father and, at a time like this, I want to share my deepest sympathies with his wife, Melanie, his son, Christopher, and all those who know and loved him."
May God give Cory rest and peace to his family and friends.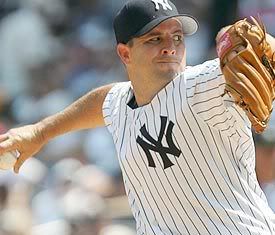 More on Cory Lidle:
-
MLB.com
-
Baseball remembers Lidle
-
Statements from the Yankees
Angel has more from a
New Yorker's perspective
.
Technorati Tags:
Cory Lidle
,
Yankees
,
New York
,
Plane Crash
,