Lest They Be Forgotten
Please take a minute to visit
Lest They Be Forgotten
.
It is a website set up by Gregg Garvey, whose son Sgt. Justin Garvey bravely died in Iraq on 20 July 2003.
Mr. Gregg Garvey is currently down in Crawford, Texas, with the other family members of fallen soldiers, facing off against the wackos at "Camp Cindy." Mr. Garvey knows what is right.
This is what the site is about:
Our mission is to create, establish, and help maintain hometown memorials in honor of the brave men and women who have lost their lives defending the United States of America in the war against terrorism.

You can support our mission and help us achieve our goals by purchasing a memorial flag, "A Flag for the Fallen". Please also consider making a donation at our sister site, LestTheyBeForgotten.org.

To learn more about our organization's goals, please read A Father's Vision. You can purchase this flag to help fund these memorials: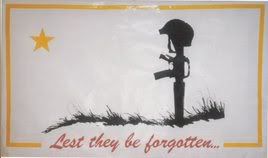 Your purchase of this symbolic memorial flag will help us achieve our goal of building a memorial in the hometowns of the soldiers lost in the war on terror.

The white background symbolizes the purity of their hearts & spirits,
the black field cross memorial signifies the solemness of their dedication & devotion;
the red lettering represents their valor & the blood they shed,
the gold star is for their Gold Star families,
the gold border embodies the enduring love & memories that only families & friends can share,and the memories, they're more precious than gold.
You can read more about Gregg Garvey and what he is doing in Crawford on NRO's
The Buzz
.