Meeting Veterans at Flags Of Our Fathers
I just got back from seeing
Flags of Our Fathers
with my father, mother, and sister. It was an excellent movie and I highly recommend it.
At the end of the movie, during the closing credits, the viewers are shown photographs from Iwo Jima. Much to my surprise and amazement, an older man seated in the row in front of me said to his wife, "That was my company."
A number of pictures later, he said, "I'm in that picture."
My goodness!
After the credits were over, he and his wife and their two companions got up. My father stood up as well, and asked if the man had been there. The man said yes and my father shook his hand. He told us that the other man with him had also been at Iwo Jima.
As we moved out into the foyer, we talked with them, and then paused outside the theater, in the mall, and spoke with them for about 10 minutes. It was an amazing experience.
We thanked them for their service to our country. They had been visibly moved by the film. As we left the theater, I had seen tears in the second man's eyes and the first man got rather choked up as we spoke outside, in the mall.
The first man told us that out of the 250 men in his company, "only 40 walked off that island." His wife told us that the average age of the men there was 19. 19!
The second man told us that "The best men died on that island. The second best men are in the hospital now. And we're just out here walking around, being a drag on society." I don't think that's true: these men are heroes too.
The second man also said that this movie is a very true representation of how it was on that island. He said Saving Private Ryan was pretty good, but this was even better in terms of reality.
It was an honor to meet these warriors of Iwo Jima. They are
heroes
. This is an experience I will never forget. How often does one go to a film and meet someone who was there?
Go see this movie. It is the least you can do to honor the toils of these men. Their story deserves to be told.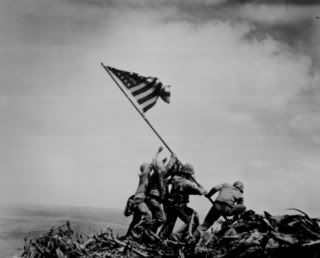 God bless them and all our military for their sacrifices, their blood, sweat, and tears, and for preserving the freedom we all enjoy today.
Technorati Tags:
Flags Of Our Fathers
,
Iwo Jima
,
WWII
,