Horatio Hornblower Postcard Drive!
If you are fan of the
Horatio Hornblower
film series, then now is the time to act.
A & E, which aired the films here in the US, has decided to revamp their programming and move away from Arts and focus on Entertainment, as in reality tv. This is very unfortunate, as the HH films are excellent.
You can read more about the whole thing
here
.
The Hornblower movies are based on the Hornblower books, written by C.S. Forester. They are set during the Napoleonic Wars, on British Navy vessels and in battles.
My favorite actor, Ioan Gruffudd, plays Horatio in the films and wants to do many more.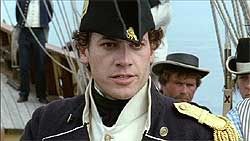 You can help in two ways:
First, sign
this
petition.
Second, join the
Postcard Drive
.
We are asking people to send postcards to A & E or Granada (or both) so that the postcards will arrive between 28 September and 1 October 2005.
If you ae in the US, it only costs 23 cents to send a postcard to A & E. There are samples of what to write
here
.
The addresses for A & E and Granada are:
A&E Television
235 East 45th Street
New York, New York 10017
and/or
ITV Duty Office
Gas Street
Birmingham
B1 2JT
If you have other questions or want more information on sending postcards out of the US or into the US from other countries, visit the Postcard Drive webpage
here
.
These are such great films that teach about honor, courage, and the fight for freedom. I hope we can convince the powers that be to change their minds. Thank you!
You can find out more about Ioan Gruffudd and Horatio Hornblower by visiting
Ioan Online
.