24 Premieres Tonight!
Season 6 of one of my favorite shows,
24
, premieres tonight in less than an hour and a half. I am so very excited to see it.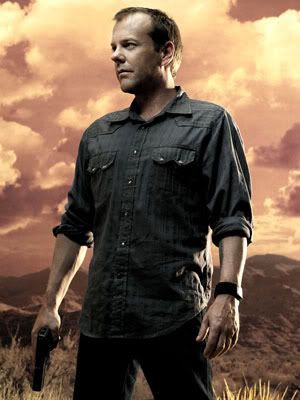 More related to 24
here
,
here
,
here
,
here
,
here
, and
here
.
Plus, hilarious Jack Bauer facts
here
.
Season 6 of 24 premieres next January 2007 with a 2 Nights, 4 Hours: Sunday, January 14 at 8pm and Monday, January 15 at 8pm.
Great Q&A with
Jack Bauer
Kiefer Sutherland from
Entertainment Weekly
.
Esquire has an article titled
WHAT I'VE LEARNED: Jack Bauer
TV Guide:
Kiefer Sutherland on 24's explosive new season
(the latest cover story, so the link won't work forever!)
Great article from June:
We Are all Jack Bauer
.
Official site
here
.
If you watch, let me know what you think!
Technorati Tags:
24
,
War on Terror
,
Jack Bauer
,