Apolo is GOLDEN!!!
The other day I wrote
this post
about US Olympic Short Track Speedskating Star Apolo Anton Ohno. He's definitely a Class Act.
Tonight, he had two events: the 500m and the Men's Team Relay.
To get to the 500m, Apolo had to skate a heat on Wednesday, 22 February, plus a quarterfinal and semi-final tonight, and then compete in the final.
In the final, Apolo skated a perfect race, leading from excellent start to excellent finish.
It was a thing of beauty.
After he crossed the finish line, Apolo's face lit up with an expression of such joy and he just yelled with happiness. He couldn't stop.
(More on the race
here
and
here
. Final results
here
. I'm sure they will have video soon
here
)
It was incredible to watch him celebrate his victory with such pure joy and utter excitement. He hugged various people with enthusiasm, took a US flag around for a victory lap, and enjoyed his victory with the American fans in the arena.
I was so excited for Apolo that I didn't even know who won Silver and Bronze. A Canadian won the Silver. Bronze went to Apolo's Korean Rival.
This race alone would have been a fantastic night, but Apolo still had the Relay to skate. Our US team put up a good fight and finished with a Bronze. With a very few laps left, we were somewhat behind the Italians when Apolo's turn came up again. He managed to skate right past the Italian ahead of him and cross the finish line. It was an incredible win, as our Men's Short Track Relay Team hasn't won a medal in this race for a time.
Our men took a lap around with Old Glory. It was also great to watch.
Before they showed the Men's Relay, NBC showed Apolo's Gold Medal Ceremony. His expression was again joyous and still humble. When the National Anthem began to play, and the flag began to rise, Apolo began to sing along, but then started getting choked up. He passed his hand over his eyes and blinked a few times, then smiled and from time to time sang along. Other than that, his hand was over his heart, right where it ought to be during the National Anthem.
It was beautiful. And the cool thing is Apolo knew the words to our National Anthem. This was evident in the way he would stop singing, but when he started again, he was in the exact place. This isn't true for all of our athletes, sadly.
After the Anthem, Apolo invited the other medal winners up to his Golden platform for pictures.
An NBC reporter had a little interview with Apolo sometime after he had been through both medal ceremonies.
His excitement and happiness were still on his face. He talked about how much winning the Gold meant, how wonderful it felt, how it was his perfect race. But, most importantly, Apolo said what touched him most was winning the Bronze Medal in the Team Relay . . . because he did it with his teammates. What a team player.
So many athletes are only in it for themselves. Team events come second and finish second in their hearts. It is refreshing to see such a humble, hardworking young man, who values his sport, his teammates, and his country.
Such a Class Act.
Apolo doesn't know if he's coming back for the 2010 Olympics in Vancouver, BC, Canada. He's from Seattle, Washington, so it would be close to home. I hope he does, so he can continue to set a Classy example for other athletes and children every where. I hope he does, if only so we can see him skate and win Gold again.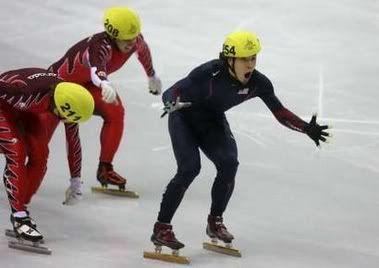 (Reuters)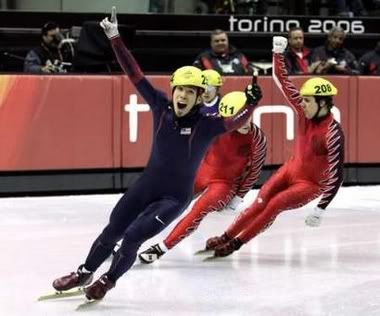 (Reuters)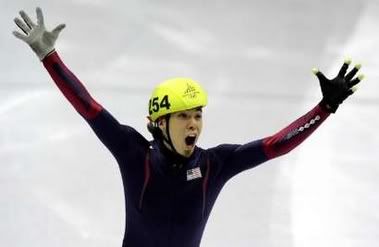 (Reuters)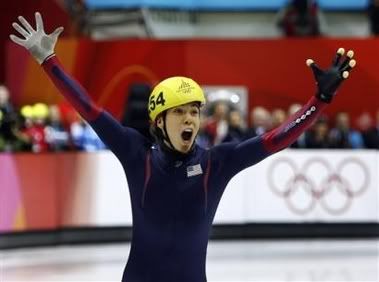 (AP)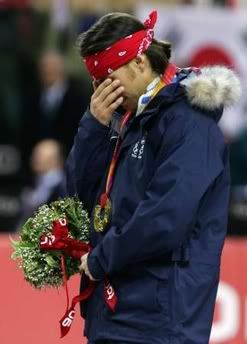 (Reuters)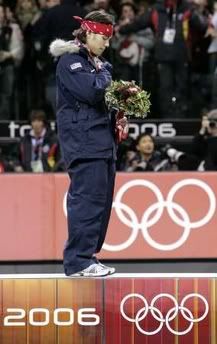 (Reuters)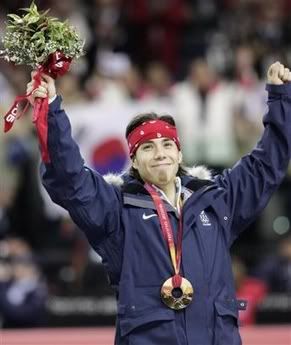 (AP)



Congratulations,

Apolo!