Amazing Grace
Friday evening, my sister and I went to
Amazing Grace
, but I have not had time to write about the film until now. You can read more about the movie (and
TheAmazingChange.com
,) in my
previous post
.
Amazing Grace
is the story of William Wilberforce, an Englishman who fought for the abolition of slavery in England and the British Empire.
Wilberforce was driven by his new, deeply-believed Christian faith and this movie is not afraid to show FAITH, to show that Christian faith led to the end of slavery in Britain. For that, I am exceedingly thankful.
And, yet, the movie is not terribly preachy or overpoweringly religious. Rather, it shows a very deep and abiding faith, which moved mountains. Faith is there, in every scene of the movie. One never sees Wilberforce standing up in Parliament, protesting his faith, but that was unnecessary then, as most people had faith. Now, our political representatives like to talk about their faith, sometimes only in order to win support. Then, it was rather understood.
But, let us be clear, Wilberforce became a deeply religious man. And his Christianity made him the man who led an empire to end slavery.
As Ioan Gruffudd, a Christian himself, said in
an interview
:
From the very word go, he was an incredibly compassionate man, and a very religious man. And because of his faith, I think that was what bolstered his journey throughout his trying to pass this bill, which took over 15 years of his life. He was very patient, and he persevered with the cause against all odds. He was incredibly stoic and brave, but I think compassionate is the main word. He stuck to his ethics and his morals and he was unwavering in that throughout his life—even when he was very ill, and even when he received death threats from people who were benefiting from the slave trade.
As I wrote in my previous post, I was looking forward to this movie because my favorite actor, Ioan Gruffudd (Yo-wan Griffith)---he's Welsh) was starring in it. The closer the premiere date came, however, the more I was excited to see it because of the subject of the film.
I was not disappointed, either by Ioan's performance or the film itself. Ioan was exquisite---passionate, weary, determined, ill and tormented, wonderful. He is perfectly suited to this time period---Georgian/Regency England (which also happens to be my favorite time period to study). Perhaps, in part, because Ioan has played Horatio Hornblower, he is very comfortable in that period's clothing, manners, and way of being. Plus, his gorgeous voice is perfect for speaking in Parliament; you cannot stop listening to it. (Great review, particularly of Ioan's "strong central performance,"
here
.)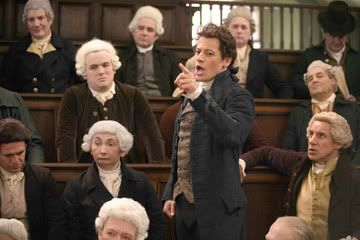 Early in the film, Wilberforce is trying to discern whether he ought to follow his faith or a career in politics. Others ask him, why cannot he do both?
Eventually, he finds that is faith is the very thing which will fuel his political ambitions and his desire to end the heinous practice of slavery.
The film begins with Wilberforce, ill and worn by his struggles in Parliament, going to rest and recuperate at his cousin's house, in or near Bath. He is disheartened by his years-long battle against slavery, which he feels has been for nothing. While there, he meets Barbara Spooner, played by Romola Garai, a young lady with decided opinions on slavery, life, and politics, which are quite similar to Wilberforce's. He doesn't want to talk about his political struggle, as he is there to recover from it, but she eventually succeeds in getting him to tell his story.
The film then transports the viewer back to when Wilberforce first really found his faith and was trying to decided faith or politics. His close friend, William Pitt the Younger, played by Benedict Cumberbatch, was about to take the position of Prime Minister at the tender age of 24, and wanted Wilberforce with him in the government. Pitt sends a special group of people to visit Wilberforce and persuade him that one can pursue faith and politics, and that he is needed in Parliament, to further their cause. Wilberforce also consults his old preacher, John Newton (Albert Finney), a former slaver turned Christian . . . who wrote "Amazing Grace."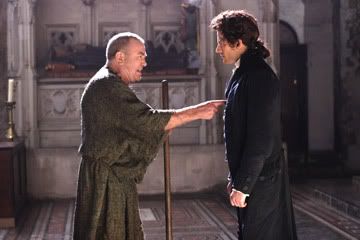 As one might guess, Wilberforce decided to take up the cause of abolition. He worked on it, along with members of the
Clapham Sect
for 20 years, through ups and downs, illnesses and health. His cause was finally victorious in March 1807, when the British Parliament passed the bill to end the Slave Trade.
The film did justice to the story of William Wilberforce and his Cause. I had tears in my eyes and on my cheeks at a number of points, but there is also humor to be found. The script is not overtly preachy, but it isn't silly either. It does not make William Wilberforce into some sort of super hero, able to achieve anything. Wilberforce is shown as an imperfect man, as we all are, but an imperfect man who, with God's help, strived to do his best and achieved great things.
I cannot say enough about this film. It is a beautiful testament to an inspiring and faithful man. Everyone ought to see it. It isn't the type of film that Hollywood usually churns out, which is a recommendation, in my opinion.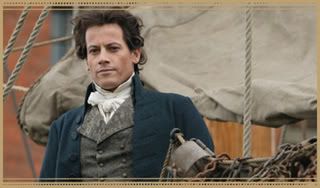 The cast is full of well known (at least to British movie fans) names: Ioan Gruffudd, Michael Gambon, Rufus Sewell, etc. They did not disappoint. The script was well done. The cinematography was beautiful (How could it not be? They filmed in England!). The score was wonderful and inspiring.
My sister went with me and usually rolls her eyes at my Ioan Fandom, but she said it was a very good movie, which is high praise, indeed.
Most importantly, the message that we are all sinners, but can be redeemed, came through loud and clear. After all, that is what "
Amazing Grace
" is all about: God's saving love. As William Wilberforce says (at least in the movie), "Remember, God made men equal."
Remember, God did make men equal, and He loves each and every one of us.
Please, go see
Amazing Grace
. It is a beautiful, inspiring movie.
I plan to see it again and will encourage everyone I know to see it, as well. I also want to read Wilberforce's writings and speeches. He has made such a difference in this world and we would do well to remember and follow his example.
More on the movie:
My blog friend, Mad Minerva,
planned to see the movie
and has some great links, including one to a tremendous Wilberforce speech. UPDATE: Mad Minerva's review is
here
.
KT Cat also has a post up about Wilberforce at
the Scratching Post
.
NRO had a number of great articles up on Friday. You'll find them:
RICH LOWRY: Faith moved a nation. "
The Wilberforce
"
AN NRO SYMPOSIUM: Sam Brownback, Tom Coburn, Chuck Colson, Richard Land, Mark Rodgers & Mark Souder and more remember Wilberforce. "
Amazing Man
"
Q&A: Eric Metaxas on the life and times of Wilberforce. "
Amazing Story
"
STEVE BEARD: It's an inspiring story. "
Force for Good
"
JONATHAN BEAN: We would do well to remember Wilberforce. "
Wilberforce and the Roots of Freedom
"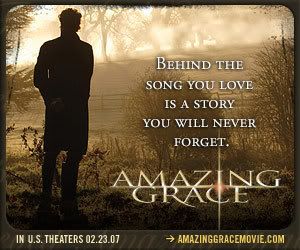 Technorati Tags:
Amazing Grace
,
William Wilberforce
,
Britain
,
Abolition
,
Slavery
,
Ioan Gruffudd
,