"Remember, God made Men equal."
THIS POST WILL REMAIN AT THE TOP UNTIL AFTER FRIDAY, 23 FEBRUARY 2007. Please scroll down for new posts.
On Friday, 23 February, a movie I have been looking forward to for more than a year will finally be released.
It is titled
Amazing Grace
and tells the story of
William Wilberforce
, an Englishman who fought for the abolition of slavery in England. This year, 2007, marks the 200th anniversary of the abolition of slavery in Britain.
At first, I wanted to see it because one of my favorite actors, Ioan Gruffudd, is the playing role of Wilberforce. Over the past year, I have heard a lot of good things about it from a wide variety of sources, and I am convinced it will be a inspiration, moral Christian movie that we all ought to see.
Who was
William Wilberforce
?
William Wilberforce was born in Hull, England in 1759, and first elected to the House of Commons at the age of 21. During his time in Parliament, Wilberforce led the political battle to abolish slavery and its trade throughout the British Empire. He introduced numerous bills to Parliament in the 18th and early 19th centuries, all of which were defeated. In hopes of persuading the British government to support abolition, Wilberforce and his fellow abolitionists scoured the England, collecting evidence of the slave trade's crimes. As part of this effort, Wilberforce collected 390,000 signatures from British citizens in support of the anti-slavery cause.

Finally, after 20 years of struggle, Wilberforce saw the end of the British slave trade when his 1807 abolition bill passed by a large majority. Twenty-six years later, just three days before his death, slavery was abolished across all British colonies as well. Despite chronic illness and repeated defeat of his anti-slavery bills in Parliament, Wilberforce persisted in his mission to abolish injustice in the world. For his abiding courage and conviction, Wilberforce earned the title, "conscience of Parliament."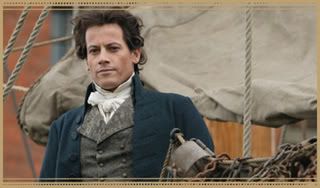 Patricia Heaton (from
Everybody Loves Raymond
), a good Catholic, and her husband David Hunt are some of the producers of
Amazing Grace
, which gives me even more confidence that this will be a beautiful, faithful film.
Please, please, visit the website, watch the trailers, read all about Wilberforce and the film, and then go see the movie.
The trailer brings tears to my eyes. Ioan Gruffudd is an excellent actor and I know he will do an exquisite job as Wilberforce.
Also, visit
TheAmazingChange.com
, A Campaign to Carry On Wilberforce's Vision of Mercy and Justice, and become an abolitionist. Slavery is still practiced in certain parts of the world. I believe that all men were created equal, by God, and that no man can own another. Do you?
Click
here
to sign the petition to outlaw slavery. It will be presented to the US House and Senate, and world leaders.
Plus,
10 Things You Can Do To End Slavery
.
Here
, you can download an
Amazing Grace
Study Guide,
Amazing Grace
Faith Guide, the Olney Hymns, Sheet Music for
Amazing Grace
, and more.
Go see
Amazing Grace
on Friday (in the US).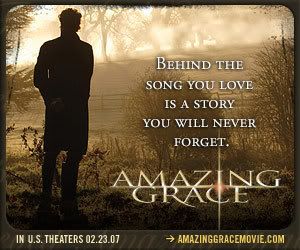 Technorati Tags:
Amazing Grace
,
William Wilberforce
,
Britain
,
Abolition
,
Slavery
,
Ioan Gruffudd
,