Pride & Prejudice
My only excuse for taking so long to write about my viewing of this
new movie
(based upon my most favorite novel, by my favorite author) is that I saw it during Christmas Break and had no time to adequately express my delight. I decided to sit down now because I only just finished re-re-re-re-(etc.) reading the glorious novel this afternoon.
I saw
Pride and Prejudice
on 19 December 2005. As it is my favorite novel, I was excited to see it, but also a bit wary of any new interpretation. I had read or heard that Jane Austen purists would not enjoy the film especially. I didn't know if Keira Knightley could be Lizzy Bennet and, mostly, if Matthew MacFadyen could live and breath Mr. Darcy.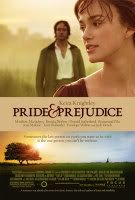 I was happily, happily able to overcome my prejudices (dear readers, do forgive me) and found the movie absolutely wonderful.
The cast were perfect in their roles. The cinematography, musical score, and adaptation were exquisite. Of course, the filmmakers made some little changes, most to remove characters, storylines, etc., that were wonderful in the novel, but easy to do without in the film. I can't remember any that really, really bothered me.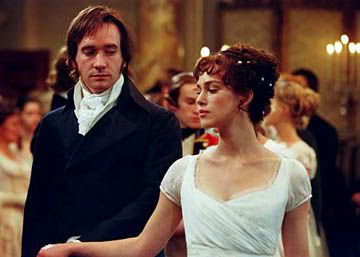 Miss Knightley was perfect as Miss Elizabeth Bennet. Her Lizzy was slightly tomboyish, very (as Lizzy calls herself in the novel) impertinent to Mr. Darcy, and sparkling.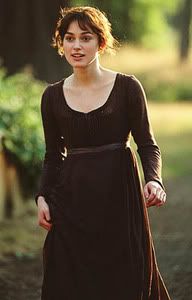 Mr. MacFadyen was excellent as Mr. Fitzwilliam Darcy. He was reserved, disapproving, and proud in just the right way. Though MacFadyen is not the ultimate Darcy (that would be Sir Laurence Olivier in the
1940 version
), his portrayal won me over. It was gorgeous.
I cannot say enough about this movie. Immediately upon reaching the end, I coudln't wait to see it again. Unfortunately, when I looked in the newspaper two days later, it was gone from the theater. Fortunately, the dvd will not be (extremely) long in coming. I have heard 28 February as the date to expect it in the stores.
To tide me (and fellow P&P lovers) over until that date, the
official movie website
has lots of lovely things: bits of the score, film clips, trailers, photos, wallpapers, icons, stationary, characters, and so much. I recommend having a look and then buying (or renting, if you aren't a die-hard) the film.
But, mostly, I recommend reading the beautiful novel,
Pride and Prejudice
, by Miss Jane Austen.
Happy reading (viewing)!